Growing Conditions
The Growing Conditions described are only the impressions of winemaker Anthony Nappa at the time of harvest in any given vintage. Based on the varieties of grapes and vineyards he was working with at the time, as well as the varietal of wines produced.
The Vintage Rating listed summarize the overall impression of the quality and character of wines produced by Anthony Nappa in the given vintage and is not intended to be a reflection of the overall quality of other producers or New York wines in general. While general in nature, the rating is intended to be a summation of the vintage across all varietals. Because a very broad range of wines are produced on long Island. Any given vintage can be a perfect vintage for some varieties and problematic for others.

Updated: August 2017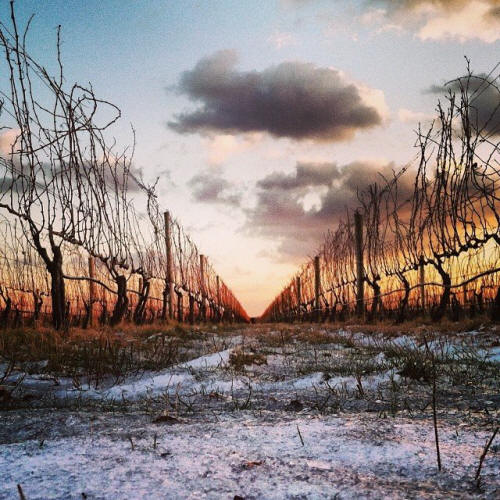 Growing Conditions: 2016 Harvest Report from winemaker Anthony Nappa; Vintage Rating: 79
Harvest 2016 will be remembered for its low Brix levels across the region and all varieties which makes for moderate alcohol levels in the wine.
The winter was very mild even warm at times, causing many plants to start to push early or animals to become active. But just one weekend of subzero temperatures was enough to cause some vine damage and killed our bee hives. Spring was cool and wet, even with a mild winter we had a very late bud break, flowering and fruit set. June was mild and vegetative growth was slow. We quickly caught up in July with 90+F temperatures and oppressive humidity lasting the entire month and through August. With very hot and extremely humid conditions we have not seen in mid-summer since 2010. Fortunately, some large and timely rain events kept us out of the drought conditions experienced upstate and throughout New England. The Fall ripening season was overall warmer than average particularly at night through September, which lowered acid levels in some cases quite fast. Flavors progressed normally and if you had clean fruit and a good canopy ripeness was good. We even had a late October warm spell where it was into the 80's
Overall fruit set was good, yields were heavy with good ripeness but the season was extremely challenging, and took extra care. We had early grape berry moth pressure due to a warm winter, a very humid summer caused late season downy mildew which defoliated some vineyards. Botrytis pressure was very low this year, due to low brix. However Sour Rot was prevalent due to warm weather into the harvest season and lowering acid levels, spread by birds and fruit flies prior to the cold nights setting in. Picking decisions were made on fruit flavors and acid levels which had to be closely monitored, as sugar levels were not an indication of ripeness.
The quality of the whites from 2016 are very good, with ripe flavors and nice balance; particularly sparkling wines, Sauvignon Blanc and Pinot Grigio. This will surely also be a Rose' year, moderate sugar levels allowed fruit to hang and get nice flavors and still have balanced chemistry for rose'.
The reds have good fruit flavors but lack some depth and structure required for reserve wines. The noticeable exception is Merlot which highlights the importance of the varietal to our region. Our fresher style reds are elegant with ripe soft tannins and bright fruit flavors, balanced with low alcohol and nice acidity.
Growing Conditions: 2015 Harvest Report from winemaker Anthony Nappa; Vintage Rating: 91
Harvest 2015 started out with an extremely cold winter and a lot of snow, making it the second winter in a row of damagingly low temperatures in the vineyard. Vine damage was prevalent across the region, particularly in low spots and susceptible varieties such as Sauvignon Blanc, Malbec and Merlot. At Raphael vine kill was prevalent as well as bud kill decimated some entire blocks producing secondary, and tertiary buds without a crop.
The entire growing season seemed to be shifted back about a month and compacted. We started with a late spring and bud break. The early summer, June and July, was relatively mild and dry. With moderate rain and even some hail. The heat kicked in starting in August and persisted through the end of September. Very dry conditions accompanied the heat and drought stress was prevalent.
With a very small crop and hot conditions during the ripening season, particularly at night, harvest came very early. Starting right at the beginning of September, one of the earliest starts on record. All the whites were harvested by mid-September and even some reds were picked before the first of October due to the threat of a hurricane. October cooled off and slowed things down a bit allowing the remaining red grapes, the reserve wines, to hang and gain some additional phenolic ripeness. All the remaining fruit was picked by the third week of October. The wines from 2015 were all well balanced with the harvest being notably a 'hurry-up and wait' scenario to harvest the grapes at the correct ripeness and chemistry. With the heat both whites and reds had an un-normally low TA but the pH and flavors were perfect allowing wines to be made without any manipulation just as the 2014 and 2013 wines. The low crop and natural balance of 2015 shows in richness and concentration of both the white and red wines.
Growing Conditions: 2014 Harvest Report from winemaker Anthony Nappa; Vintage Rating: 90
Harvest 2014 will be remembered as the largest grape crop in Long Island history across the region. Strangely this was experienced by all growers and across all grape varieties, often up to 5 tons/acre on both white and red varieties. Farmers are always happy about a big crop, and many take as much as they can, but to produce high quality wines you often have to control the crop to achieve ripe flavors and balanced chemistry. At Raphael we chose early, after a cool summer to drop fruit in most of the vineyard and adjust the crop to levels where we felt could achieve the best results.
2014 started out with a very cold winter and a lot of snow, a very late spring and bud break similar to 2013. Overall the growing season, June to August, was very dry with drought conditions across the region by August, growers who could irrigated regularly. Meanwhile temperatures were well below normal producing a beautiful summer of cool temperatures and low humidity for beachgoers. For about 6 weeks from mid-August to the end of September we experienced no rainfall with what felt like early fall days with very cold nights below 50 F (even in August) but warm days in the 70's. This produced great disease free conditions with a long slow ripening season for our early varieties of white wine grapes and Pinot Noir by retaining natural acidity and producing ripe flavors.
The ripening season September to November overall was cool and a bit wet but because of an overall cool year and larger crops all varieties were delayed in ripening. Many grapes were picked much later than normal with much of the red wine crop harvested in November. A late warm spell and no frost allowed us to hang red grapes until the second week of November while continuing to accumulate flavors. The wines from 2014 show exceptional natural balanced chemistry and ripeness due to the long ripening season particularly producing amazing and complex whites and the best Pinot Noir conditions in a decade.
Growing Conditions: 2013 Harvest Report from winemaker Anthony Nappa; Vintage Rating: 94
Harvest 2013 was a busy but a very exciting one for us all. It started for me on September 6th at 4:31pm with the birth of our son Leonardo Nappa. He came a full three weeks early, which was very thoughtful of him, as we started harvesting grapes soon after.
2013 started out with a cold winter, a very late spring and bud break a full month behind 2012. A wet June turned into an overall cool summer. By the end of August, we were weeks behind in the vineyard and behind in overall ripeness. However, as nature has a way of balancing out, we ended up with a very warm and dry Fall ripening season that allowed us to catch up quickly on sugar levels and the cool nights helped to retain acidity giving us a great natural balance in the grapes. Also, we experienced one of the driest falls on record with over 50 days without precipitation. We watched nervously, dogging a bullet each time a storm came up the coast or across the country and broke up over Long Island. But without precipitation and any notable disease pressure we were able to harvest each grape variety at our leisure and at its peak. The wines from 2013 show exceptional natural balanced chemistry and full ripeness, particularly the late season reds, which has made us excited about the quality and the future longevity of the 2013 Vintage!
Growing Conditions: 2012 Harvest Report from winemaker Anthony Nappa; Vintage Rating: 90
Harvest 2012 featured a great vintage across the east coast. Here on Long Island, a warm snowless winter turned into one of the hottest, earliest springs on record. Bud break in April started as early as the 10th, which increased the risk of frost at some sites. Summer brought copious heat and sunshine, with sustained temperatures in the 90's. With minimal rainfall some near-drought conditions were prevalent across the region throughout the summer months. With the heat came the humidity and disease pressure persisted through the growing season. A cooler wet September & October slowed ripening and increased disease. This caused many growers to make harvest decisions based on weather and rot, which culminated in all grapes being harvested before hurricane Sandy hit the region on October 29th.
Overall yields and sugar levels were lower than expected but flavors developed slowly and tannins were able to fully ripen. For varieties harvested at the right time, both white and red, this may turn out to be a perfect season with wines showing excellent natural balance of ripe fruit and tannin structure, with a cool fall preserving acidity, and alcohol levels not too high.
Growing Conditions: 2011 Harvest Report from winemaker Anthony Nappa; Vintage Rating: 85
Harvest 2011 featured a very challenging vintage across the east coast. A mild winter with a late bud break and wet spring led into a relatively mild and dry June and July. Overall temperatures and GDD (heat accumulation) were below normal but not problematic. A hurricane at the end of August dropped a lot of rain across much of the mainland and into New England, where the East End of Long Island got mostly wind. After seemingly having dodged a bullet the month of September brought almost constant rain for over 3 weeks. Being very bad timing during the ripening season and early harvest. The rains decimated crops in many vineyards and made other red varieties unable to ever fully ripen. The white wines from 2011 showed amazing flavor. What was harvested was low yield and high quality with great structure and cool climate acidity.
Growing Conditions: 2010 Harvest Report from winemaker Anthony Nappa; Vintage Rating: 92
Harvest 2010 featured an excellent growing season across the east coast. A very early bud break and a dry sunny spring led into an extremely hot dry June and July. Overall temperatures and GDD (heat accumulation) were above normal for the entire season making 2010 one of the hottest summers in recent memory. Drought stress was problematic on many of the local vineyards while sugar accumulation and acid degradation outpaced phenolic ripeness producing grapes with unbalanced natural chemistry which had to be adjusted in the winery. Harvest started earlier than ever on record on Long Island with sparkling wines at the third week of August. The ripening season of September and October brought cooler temperatures particularly night time which helped slow things down. But all varieties were harvested by mid-October making the completion of harvest 2010 the earliest on record. The grapes harvested in 2010 had a high yield and high quality across the board, with higher than average sugar levels, alcohol levels and ripeness.
Growing Conditions: 2009 Harvest Report from winemaker Anthony Nappa; Vintage Rating: 89
Harvest 2009 was a frustrating and difficult season from start to finish. A cool, rainy spring started us off with a late bud break. June was overcast and extremely wet with over 20 days of rain. Shatter was prevalent across the region during flowering causing an inconsistent fruit set. Depending on variety and location some growers lost 30%-60% of the crop. Cool and wet conditions persisted into summer until August which brought warm and sunny weather as well as humidity. Moving into the ripening season all growers were as much as 2 weeks behind. September was warm and pleasant; October was dry but stayed cool.
The white wine harvest started late, but with a slow & cool season and with lower yields quality was high and chemistry was balanced. For the red grapes at Shinn we dropped fruit three times in the vineyard starting September 1st in an effort to harvest grapes which could be fully ripened. Overall this brought yields down even further to as low as 1 ton/acre on some varieties. Red wine harvest started the latest ever, as we didn't pick any red grapes until November. The November weather held out and stayed frost free allowing us to reach physiological ripeness, we finished harvest on November 13th. The quality was extremely high with natural balanced chemistry and ripeness due to the long ripening season allowing us to make wines without any manipulation. In the cellar all of my wines are fermented long, by wild indigenous yeast, with a long post-maceration. I finished 2009 harvest on December 20th in a rush to press off all the reds in our press outside, as a blizzard dropped 2 feet of snow.
Growing Conditions: 2008 Harvest Report from winemaker Anthony Nappa; Vintage Rating: 88
Harvest 2008 started with a warm snowless winter turning into a cool spring with an earlier than average bud break. A spring frost wiped out two-thirds of Shinn's Sauvignon Blanc buds and caused damage across the region, particularly in low spots and susceptible varieties. The growing season was warm but not hot with plenty of sun. A lot of rain persisted throughout the summer which brought disease pressure as well as plenty of humidity. The grapes were behind average ripeness entering the ripening season (September-October) which brought cool but dry conditions. Overall the harvest was compacted with most of the white wines being harvested quite late, the last week of September into the first weeks of October. While the reds were harvested early ending the third week of October due to an early frost which defoliated the vines. The grapes harvested in 2008 had a high yield and high quality across the board, with lower than average sugar levels, high TA's but with balanced pH's.
Growing Conditions: 2007 Harvest Report from winemaker Anthony Nappa; Vintage Rating: 92
Harvest 2007 was my first harvest on Long Island as well as the first vintage of our Anthony Nappa Wines brand, harvested early with 3 tons of very ripe Pinot Noir grapes which would eventually become our first wine 'Nemesis'.
Luckily for me, I arrived on Long Island mid-August into a great growing season with plenty of heat and sunshine. With seemingly the right amount of water at the right times in an overall dry/drought year was actually one of the warmest seasons overall on record with almost 3500 GGD recorded. The weather cooled down slightly beginning in August which slowed ripeness, and this perfect weather with daytime temps into the 70's persisted all fall to the end of October. Without precipitation in the ripening season and any notable disease pressure we were able to harvest each grape variety at our leisure and at its peak. Overall the quality was excellent, with higher than normal sugar levels and ripeness, low acidity and correspondingly higher pH's was typical throughout the region and required some adjustments.
The extremely high quality of the 2007 wines surpassed my expectations of a region I thought highly of, as having the best potential for the greatest wines on the East Coast. In a year other winemakers called "somewhat boring" because it was so ideal, I clearly had a lot to learn, and had no idea what I was in for.